TOWNE FAMILY ASSOCIATION, INC. is a not-for-profit educational genealogical organization founded in 1980. Members are the descendants of William and Joanna (Blessing) Towne who came to America from Great Yarmouth, England and settled in Salem, MA about 1635. The couple had eight children, three of whom, Rebecca Nurse, Mary Esty, and Sarah Cloyse, were caught up in the Witchcraft Hysteria in Salem in 1692. Rebecca and Mary were hanged. TFA includes descendants of both the male and female lines of the TOWNE, NURSE, ESTY, BRIDGES, CLOYSE and associated families.

Please explore our site and send us your feedback. It is a work in progress and we welcome all ideas to make this a valuable resource for all of our members. We hope you will contribute articles and pictures to the site.

A word about our database. It has been developed over the past 34 years based on contributions of lineages from members. Not all of these lineages included source information and as such are presented as unverified. They should be considered as providing direction for you as you develop your own research, but, unless the data is supported by a recognized source, it should not be considered to be definitive. We will be working to verify our data, but this will be a long term project. To help with this, please send any corrections or changes you find in your own line, along with sources to us: admin@townefolk.com Have fun! Explore the site! Send us your ideas!

PLEASE NOTE: The information in our database is provided as a member service and is for the exclusive use of TFA members. While vital records are open to the public, member stories, photographs and the like are not without written permission from TFA and the member who submitted the information.





HISTORY OF THE ASSOCIATION

Towne Family Association, Inc., was organized in 1980 by William Bradford Towne and Alexandria Deena Towne. Deena, who became the first president, died in 1988. Bill Towne, who died in 1995, became the first editor of the quarterly newsletter, About Towne which is published by the organization.

1981 Charter Members
Compiled by Shirley Drury Patterson from About Towne Vols. I & II On the occasion of the 30th Annual Reunion in Omaha, Nebraska September 25 - 28, 2010

The Association was incorporated in Delaware in 1989 as a non-profit genealogical organization to be able to give all persons interested in the Towne family a source to find their place in the family. All officers of the Association serve without remuneration. Members donate many hours of work to keep the success of the group going. We have a devoted group who edit and publish the current About Towne newsletter each quarter. Articles are given by many members nationwide, who make the newsletter one of interest for all readers.

The organization of over 500 members holds an annual reunion in various parts of the United States which attracts new members from far and wide. The reunions are coordinated by volunteers each year. New members are recruited by wide advertising, on the TFA website, and by reference to TFA by organizations such as the Nurse Homestead in Massachusetts.

The organization has a genealogist responsible for receiving and coordinating research from members. A large database has been compiled from submissions by members of their ancestry throughout the years. To submit new or corrected information to the database, contact Gail Garda at genealogist@townefolk.com





Please direct inquiries to the TFA President:

Gail Garda
Email: president@townefolk.com


Back to top
WHO IS WHO IN TFA


BOOKS AND RESOURCES


BEST COOKS IN TOWNE
Recipes from our 1992 cookbook. Check back regularly for a new selection!

GENEALOGY CORNER


TFA MEMBER NEWS


Administrators Only


Sunshine Ambassador: Barbara Cole is our official sunshine ambassador. If you know of a member or family member of a member who is ill or deceased, or who has had an addtion to their family, or are celebrating a significant birthday or anniversary you should contact Barb who will send a card or make a phone call on behalf of TFA at:.
sunshine@townefolk.com


MEMBERSHIP Membership is by calendar year, from January through December.

Members receive an internet subscription to About Towne, our colorful TFA quarterly newsletter and may access its 36 volume archive of past issues. Each lively issue contains articles of genealogical research, historical and biographical papers about family members, and reports of TFA activities, both regional and national. Current and past issues may be downloaded for viewing or printing. An email reminder is sent to members when each new issue of About Towne is posted to the TFA web site. If you would prefer to have a printed copy mailed to you, please contact Will Towne directly at TFAMembership@gmail.com Members also may search on the TFA website among the more than 80,000 names in the Towne Family Tree and submit their own genealogical data to our TFA Genealogist for comment or questions. Click below to join or renew.

2017 Membership Form


IMORTANT NOTE: In ADDITION to completing the membership form, to access the newsletter online, you will ALSO need to REGISTER for a User Account on the website. This is free for members, but you must fill out both forms. To register,you will find a link in the left hand menu titled "Register for a User Account." Once you have clicked on that and submitted it, you should hear back within a day or two when your membership has been activated.

Renewals for 2017 were due for 2017 only by March 1st. If you have not yet renewed, your access to the members only areas of the website has been removed. Access will be restored as soon as we receive your dues.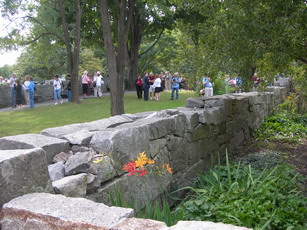 Photography courtesy of Stablegirl Cindy

JOIN TFA!!







Milestone Anniversaries (1980-2012)


Gail Garda, with the assistance of Virginia Towne, has compiled a list of current members who have been members for 25 years or more. We are lucky to have these people who are committed to seeing TFA prosper into the future.