June 2017 England Trip Brochure

Click to view the full brochure. Even if you won't be able to join us, you will enjoy the beautiful photographs!

Ready to sign up? We have only 37 spaces available, so don't miss out. Click here for the application form and information about our "early bird special".

Questions? For information contact:

townefolk@allies.com



New for this tour: A special opportunity to help preserve a piece of our history by contributing to the Hintlesham Estey Map project. If we can get enough donations and Charles Farrow is able to find us some grant money, the restoration may be completed by the time we visit the Suffolk Records Office in 2017. For information, click here: Hintlesham Estey Map Project Information



Map of Great Yarmouth



TFA in England in 2012:




Did you miss our 2012 Trip to England?

Our tour of ancestral sites in England and our 32nd annual meeting, which was held September 9th,2012 in St. Nicholas Parish Church where William and Joanna Towne were married and six of their eight children were baptized, is now a wonderful memory. If you were not able to join us, or just want to relive our experience, you may click below to read the detailed itinerary we followed thanks to Charles Farrow. As detailed as it is, however, it does not include all of the wonderful surprise teas provided to us in many of the churches we visited. Thanks to the meticulous planning by both Charles and Karen Johnsen, the trip came in under budget, so people were actually able to receive refunds which was a welcome surprise. If you missed the December 2012 issue of About Towne which included stories and photos from our trip, members may read it in the newsletter archives. 2012-4 December Vol. XXXII, p.57-86

Click here to read a description of English Parish Church architecture incorporated into our 2012 itinerary. Then, if you would like to read about our trip in more detail, accompanied with numerous photographs, click here to read the booklet compiled by Rae Russell Johnson.

Our tour guides, Karen Johnsen and Charles Farrow at Belton Church. Photograph courtesy of Karen Johnsen

A little more about Charles Farrow, our researcher in England who has once again tirelessly searched out sites for us to visit on this tour:

I'm Charles Farrow, your Tour Guide. First I will give you a bit of background. Born in Ipswich, Suffolk, in 1952, my family moved to Norwich in 1960, and I have spent the rest of my life living in Norfolk. I trained in Law in Norwich and practised there for a number of years. Having always been interested in English History, I decided to change careers and became a freelance Historical Researcher. My legal training has been invaluable, as has my love for all legal documents, which so often prove descent in genealogical work. My aim is always to discover the truth in family history, however unpalatable the results may be.

My hobby is visiting historic buildings, particularly Churches. So far I have visited over 6600 Churches all over England, which is somewhat more than half the total number, as well as a number in Wales. I have also visited nearly all the historic buildings open to the public in England and Wales. I am a member of the Bishop of Norwich's Books & Documents Committee, a Vice President of the Norfolk & Norwich Archaeolgical Society, and a member of the Council of the Norfolk Record Society, as well as being a past Chairman of the Norfolk Family History Society.

I first became involved with the Towne Family Association in 1994, when I was asked by the Tour Company to help with the Norfolk part of a 14 day Tour by TFA members. At the request of Jim Roome I subsequently undertook research into Towne families in Lincolnshire and Kent, which should now be in your archives. When TFA decided on another 14 day Tour in 2001, I was asked by the Tour Company to act as Tour Guide again, which I was happy to do. That the Tour turned into a nightmare for me was no fault of the 14 delightful members, and everything to do with lack of communication by the Tour Company with the places we were visiting, many of which didn't know we were coming. It certainly taught me a valuable lesson for future Tours.

With Jim Roome I planned a Tour for 2010, which had to be dropped because of his wife's illness. Subsequently Karen Johnsen picked up the baton and in 2010 Karen and I started working together on plans for a tour which took place in September 2012, on which everything went flawlessly, which participants having a wonderful experience. Karen and I have joined forces once again to offer another tour in June 2017.

Alongside work for this Tour, I have been engaged in the research commissioned at the 2013 Reunion Meeting, much of which has been published in About Towne. I am looking forward to meeting you all, and to being your Tour Guide.
Charles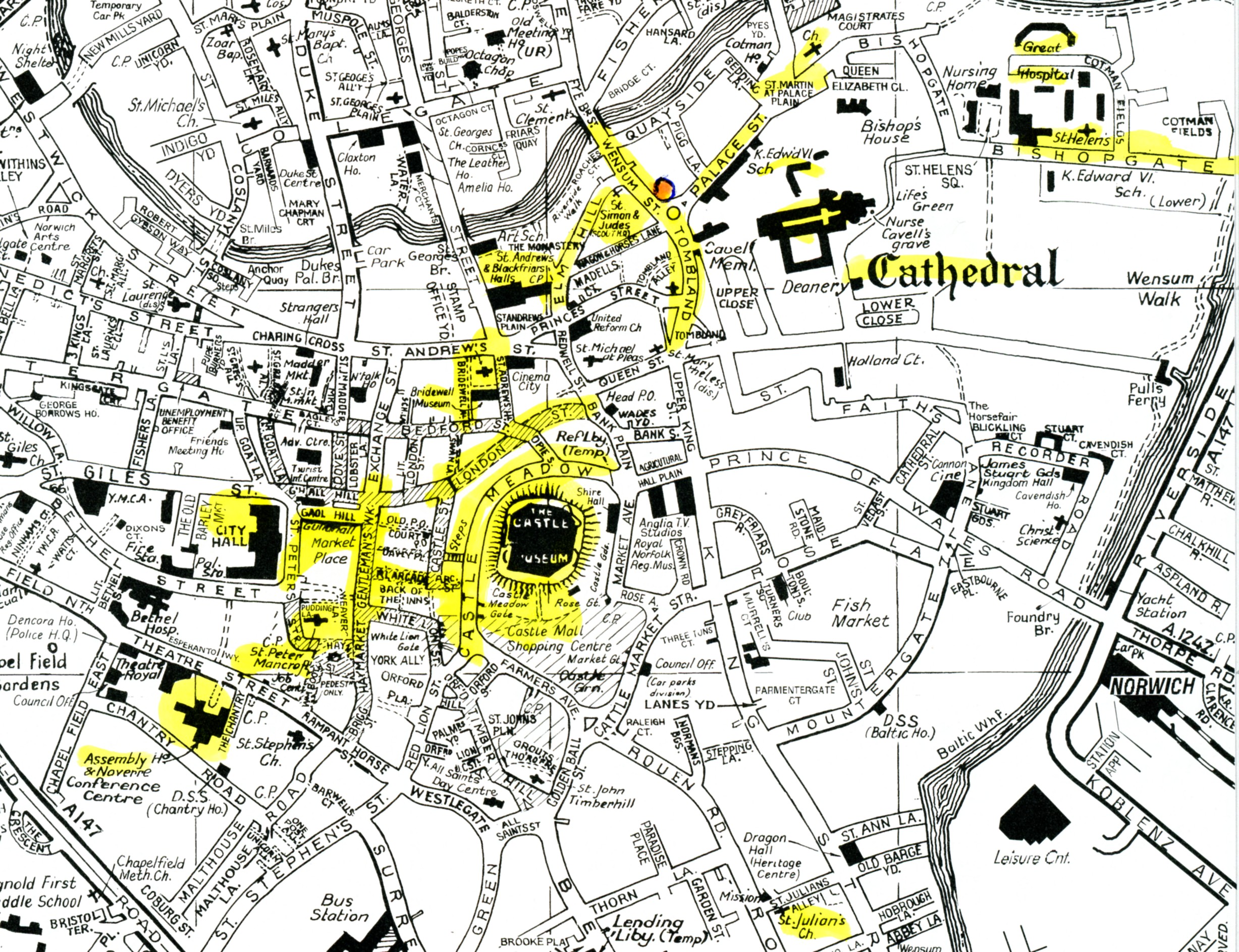 Map of Norwich

If you would like more information about Norwich, you may download a brochure by clicking here:
More about Norwich, England



2017 is a long way away, so while waiting, why not read a wonderful account from our Danvers Archive of the 2001 England trip written by Past President Connie Purvis who passed away in 2013, used with permission of her husband, Vic. There are lots of photos (everyone looks much younger!) Some of the family background which was thought to be accurate at the time has since been disproved by further research on the part of our researcheer in England, Charles Farrow, but the experience of the trip remains the same. Thanks to Gail Garda for digitizing this document so it could be posted for everyone to read after she discovered it in Jim Roome's files!

2001 Tour Group
Photography courtesy of Vic Purvis

1991 Tour Group Front L to R: Nita Richey, Jean and Arthur Towne, Connie Purvis, Marie Roome, Elizabeth Morfitt, Carolyn Koethe, Joan Stevens Back L to R: Ken Parker, Barbara Noel, Vic Purvis, Joann Schaad, Jim Roome, Jim and Dolowries Wulfhorst, Charles Farrow
CLICK to read English Roots 2001

For information about the 2017 tour, contact:

townefolk@allies.com