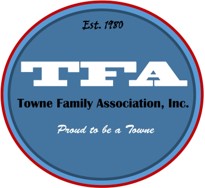 Towne Family Association, Inc.
Welcome to the Towne Family Association, Inc. site, dedicated to the descendants of William Towne and Joanna Blessing, who were married 401 years ago at St. Nicholas Church on April 25, 1620. Six of their children, Rebecca, John, Susan, Edmund, Jacob, and Mary were baptized there. After emigrating to Salem MA, two additional children, Joseph and Sarah were born. Rebecca (Nurse), Mary (Esty) and Sarah (Bridges Cloyse) were victims of the witchcraft hysteria of 1692. A plaque commemorating this family, donated by TFA hangs in St. Nicholas Church.

Are you coming to the Danvers reunion? If you are, be sure to read the 3-part Salem Driving Tour written in 2007 by Jean Towne and adapted by Rae Russell Johnson in 2020 to help you plan your visit. You will find it in the Histories Collection in the sidebar to the left. If you aren't able to come this year, it will give you a wonderful overview of the area for a future trip.

Did your ancestors live in Boxford, Massachusetts? If you live in the area, Robin Siegel, the archivist for the Boxford Historic Document Center, would like you to visit the center, which is now open at 173A Washington Street in Boxford on Wednesdays and the first two Saturdays of the month. (Call first since schedule is subject to change: 978-352-2733.) If you are unable to go in person, visit the website at https://www.boxfordhistory.org/ or contact Robin at boxforddocs@gmail.com for more information.

Please explore and enjoy the many public areas of our site. In order to gain access to our database, newsletter archive, and research on our English ancestors, you need to be a MEMBER of TFA. Click below for a membership form. When you join, you will be registered for a user account and gain full access to our website. Membership is open to all persons having ties to this Towne family through blood relationship, marriage, collateral lines, friendship or interest.

CURIOUS ABOUT WHAT ELSE IS HERE?


JOIN TFA!!
About TFA...
Established 1981
Incorporated in Delaware in 1989


Towne Family Association is a volunteer organization. We rely on members who can give a little of their time to keep the organization running. Where can you volunteer? Reunion, Genealogy, Website, DNA, Newsletter? Click Contact Us at the bottom of the page to learn how you can help.
"We make a living by what we get. We make a life by what we give." Winston Churchill.
Who is Who in TFA
Membership
Books and Resources
Best Cooks in Towne
Genealogy Corner
Our English Roots
Reunions
Regional Meetings
Just for Members
All the nuts and bolts!
Bylaws, Incorporation Papers, budget and monthly financial reports, procedures manuals, annual meeting booklet, including minutes of past meetings, current roster of members, current officers and committee chairs, inventory of genealogical library in Danvers
DNA Project
Confirm your lineage and help map William's Y-DNA tree!



Contact Us
If you have any questions or comments about the information on this site, please contact us. We look forward to hearing from you.

To access our database and newsletter archive, TFA membership is needed. Join now for full access to our site.